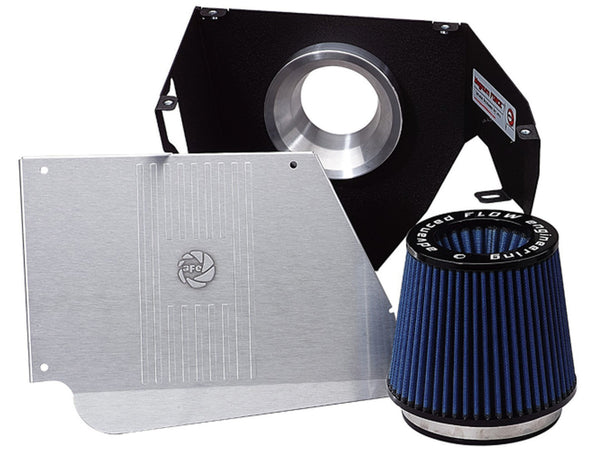 AFE: Magnum FORCE Stage-1 Cold Air Intake System w/Pro 5R Filter Media BMW 330i/ci/xi (E46) 01-06 L6-3.0L (M54)

This Stage-1 cold air intake system produces 20 max horsepower, 27 lbs. x ft. torque and out-flowed the factory intake by 76%. This system includes a durable 18 gauge, powder-coated heat shield combined with a aluminum cover to keep intake air temperatures to a minimum; Also included is a washable/reusable high flow conical air filter that uses a unique 3-angle filter adaptor that smooths air transition into the intake tract for better performance. The one-piece heat shield requires little or no assembly and the filter is constructed with 100% polyurethane for long life and multiple cleaning cycles.
Emissions Disclaimer:
Some or all of the applications listed are 50-state exempt, please see CARB EO# CARB EO# D-550-38 for details.
| | | | | | |
| --- | --- | --- | --- | --- | --- |
| Year | Make | Model | SubModel | Engine | Fuel |
| | | | | | |
| --- | --- | --- | --- | --- | --- |
| 2001-2006 | BMW | 325Ci | (E46) M54 Engine | L6 3.0L | Gas |
| 2001-2005 | BMW | 325i | (E46) M54 Engine | L6 3.0L | Gas |
| 2001-2004 | BMW | 325xi | (E46) M54 Engine | L6 3.0L | Gas |
| 2001-2006 | BMW | 330Ci | (E46) M54 Engine | L6 3.0L | Gas |
| 2001-2005 | BMW | 330i | (E46) M54 Engine | L6 3.0L | Gas |
| 2001-2004 | BMW | 330xi | (E46) M54 Engine | L6 3.0L | Gas |
| 2004-2006 | BMW | X3 3.0i | (E83) M54 Engine | L6 3.0L | Gas |