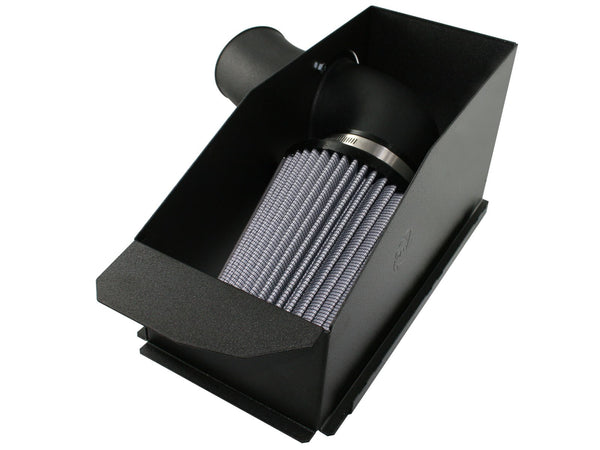 AFE: Magnum FORCE Stage-1 Cold Air Intake System w/Pro DRY S Filter Media Ford Trucks 05-07 V10-6.8L

This Stage-1 cold air intake system produces up to 12 horsepower & 17 lbs. x ft. torque and outflows the factory intake by 21%. Enclosed in a durable 18-gauge, powder-coated heat shield, this air intake system features a washable/reusable conical air filter that improves airflow for increased horsepower and torque. Its heat shield requires little or no assembly and the filter is constructed with 100% polyurethane for long life and multiple cleaning cycles.
Hassle Free Installation:
 This intake replaces the factory intake box and uses the factory inlet tube. All hardware and components are included for a hassle-free installation.
4" Conical Air Filter:
This intake utilizes a 4" oval conical Pro DRY S performance air filter that requires no oil and cleans with soap and water for maximum convenience.
One-Piece Filter Housing:
The black powder coated filter housing is designed to mount using the factory location. This housing comes in one piece, which provides a hassle-free installation.
Note:
This intake is 50-state legal for 2005-2007 Super Duty F-250/F-350/('06-'07) F-450/F-550 models (CARB E.O Number D-550-3/28).
| | | | | | |
| --- | --- | --- | --- | --- | --- |
| Year | Make | Model | SubModel | Engine | Fuel |
| | | | | | |
| --- | --- | --- | --- | --- | --- |
| 2005-2005 | Ford | F-250 | Harley-Davidson Edition | V10 6.8L | Gas |
| 2005-2007 | Ford | F-250 | XLT | V10 6.8L | Gas |
| 2005-2007 | Ford | F-250 | XL | V10 6.8L | Gas |
| 2005-2007 | Ford | F-250 | King Ranch | V10 6.8L | Gas |
| 2005-2007 | Ford | F-250 | Lariat | V10 6.8L | Gas |
| 2005-2005 | Ford | F-350 | Harley-Davidson Edition | V10 6.8L | Gas |
| 2005-2007 | Ford | F-350 | XLT | V10 6.8L | Gas |
| 2005-2007 | Ford | F-350 | XL | V10 6.8L | Gas |
| 2005-2007 | Ford | F-350 | King Ranch | V10 6.8L | Gas |
| 2005-2007 | Ford | F-350 | Lariat | V10 6.8L | Gas |
| 2005-2007 | Ford | F-450 | XL | V10 6.8L | Gas |
| 2005-2007 | Ford | F-450 | XLT | V10 6.8L | Gas |
| 2005-2007 | Ford | F-450 | Lariat | V10 6.8L | Gas |
| 2005-2007 | Ford | F-550 | Base | V10 6.8L | Gas |
| 2005-2007 | Ford | F-550 | XL | V10 6.8L | Gas |
| 2005-2007 | Ford | F-550 | XLT | V10 6.8L | Gas |
| 2005-2007 | Ford | F-550 | Lariat | V10 6.8L | Gas |