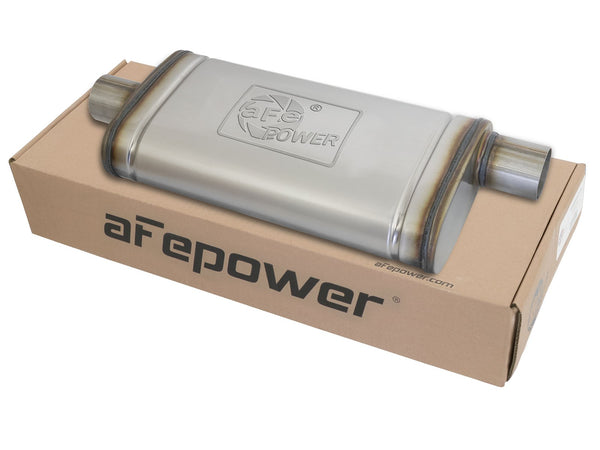 AFE: MACH Force-Xp 2.5" to 2.5" 409 Stainless Steel Muffler 2-1/2" Center Inlet /2-1/2" Offset Outlet, 18"L x 9"W x 4"H Body

The aFe Universal fit 409 Stainless Steel Performance Muffler is designed to provide a deep, throaty, powerful sound on acceleration but maintain a smooth sound at idle. This muffler is constructed of brushed finished 409 stainless steel and uses a straight through perforated core with heat resistant packing to reduce backpressure and maximize exhaust flow. You will see increased performance and improved throttle response over the factory exhaust. Also featuring a stamped aFe Power logo for an aggressive style.
Muffler Specifications: 2.5" Center Inlet /2.5" Offset Outlet, 18"L x 9"W x 4"H Body Diameter.
Emissions Disclaimer:
This product does not require a CARB EO#