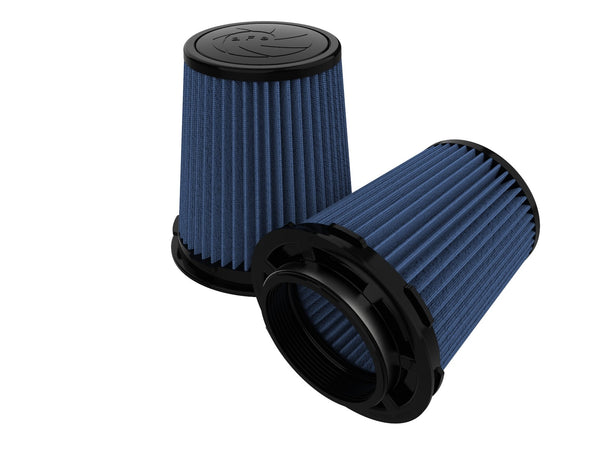 AFE: Magnum FLOW Pro 5R Air Filters (Pair) 4 F x 6 B mt2 x 4-3/4 T x 7 H in

Pro 5R Filter Media:
These filters feature five layers of pre-oiled cotton gauze media to provide maximum performance. Their progressive layering allows the filters to flow at high levels even when dirty, while their inverted top makes for more filter surface area, resulting in longer service intervals. This media is perfect for street and/or track use. Pro 5R filters are easily recharged with aFe's POWER CLEANER and blue air filter oil.
Click here for more information about our filter media.
Rounded Deep Open Pleats:
aFe POWER performance air filters use a rounded, evenly spaced pleat design which allows for more usable filter surface area, providing increased flow and greater dust holding capacity.
100% Polyurethane Base & Top:
These aFe POWER performance air filters are constructed with a polyurethane base and top. Unlike other materials that degrade after repeated heat cycles in an engine bay, polyurethane maintains its original molded shape.
Innovative Design:
Utilizing the filter's external locking tabs, the filter snaps into most Momentum series housings with zero hardware. This patent pending interface allows for easy filter maintenance and replacement.
Warranty:
Click here for warranty information.
Fits:
aFe POWER intakes 54-13030R & 54-13030D.
Emissions Disclaimer:
This product does not require a CARB EO#.