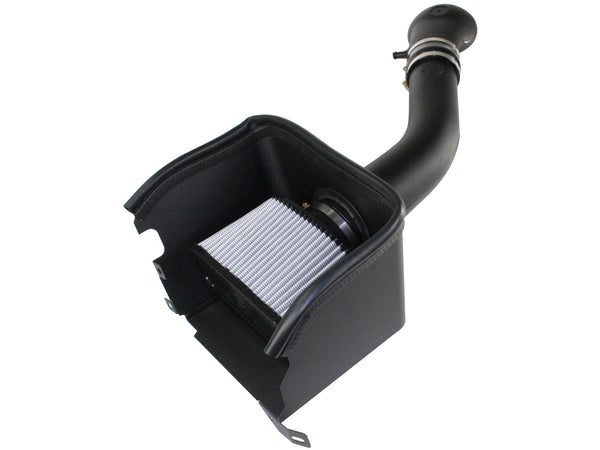 AFE: Magnum FORCE Stage-2 Cold Air Intake System w/Pro DRY S Filter Media Dodge RAM 1500/2500/3500 94-01 V8-5.2L/5.9L

This Stage-2 cold air intake system produces 8 max horsepower and 15 lbs. x ft. torque over the factory intake. Includes a durable 18 gauge, powder-coated heat shield; this air intake system features a Pro Dry S washable/reusable conical air filter. This intake system also features a heat-insulating roto-molded tube that replaces the stock intake tract and directs increased airflow with improved volumetric efficiency for maximum performance. One-piece heat shield requires little or no assembly and the filter is constructed with 100% polyurethane for long life and multiple cleaning cycles.
This intake is 50-state legal (CARB E.O Number D-550-3/14/19/22).
| | | | | | |
| --- | --- | --- | --- | --- | --- |
| 1994-1996 | Dodge | 1500 | Base | V8 5.2L | Gas |
| 1995-2000 | Dodge | 1500 | Custom | V8 5.2L | Gas |
| 1995-1997 | Dodge | 1500 | Runner | V8 5.2L | Gas |
| 1997-2001 | Dodge | 1500 | Laramie | V8 5.2L | Gas |
| 1997-1997 | Dodge | 1500 | LT | V8 5.2L | Gas |
| 1997-2001 | Dodge | 1500 | Sport | V8 5.2L | Gas |
| 1997-2001 | Dodge | 1500 | ST | V8 5.2L | Gas |
| 1998-1999 | Dodge | 1500 | R/T | V8 5.2L | Gas |
| 1994-1996 | Dodge | 1500 | Base | V8 5.9L | Gas |
| 1995-2000 | Dodge | 1500 | Custom | V8 5.9L | Gas |
| 1995-1996 | Dodge | 1500 | Runner | V8 5.9L | Gas |
| 1997-2001 | Dodge | 1500 | Laramie | V8 5.9L | Gas |
| 1997-1997 | Dodge | 1500 | LT | V8 5.9L | Gas |
| 1997-2001 | Dodge | 1500 | Sport | V8 5.9L | Gas |
| 1997-1998 | Dodge | 1500 | SS/T 5.9L | V8 5.9L | Gas |
| 1997-2001 | Dodge | 1500 | ST | V8 5.9L | Gas |
| 1999-2001 | Dodge | 1500 | SLT | V8 5.9L | Gas |
| 1994-1996 | Dodge | 2500 | Base | V8 5.2L | Gas |
| 1997-2001 | Dodge | 2500 | Custom | V8 5.2L | Gas |
| 1994-2002 | Dodge | 2500 | Base | V8 5.9L | Gas |
| 1995-1998 | Dodge | 2500 | Limited | V8 5.9L | Gas |
| 1995-2002 | Dodge | 2500 | Custom | V8 5.9L | Gas |
| 1995-1998 | Dodge | 2500 | Lujo | V8 5.9L | Gas |
| 1996-1997 | Dodge | 2500 | Laramie | V8 5.9L | Gas |
| 1999-2002 | Dodge | 2500 | SLT | V8 5.9L | Gas |
| 1994-2002 | Dodge | 3500 | Base | V8 5.9L | Gas |
| 1995-2002 | Dodge | 3500 | Custom | V8 5.9L | Gas |
| 1999-1999 | Dodge | 3500 | SLT | V8 5.9L | Gas |