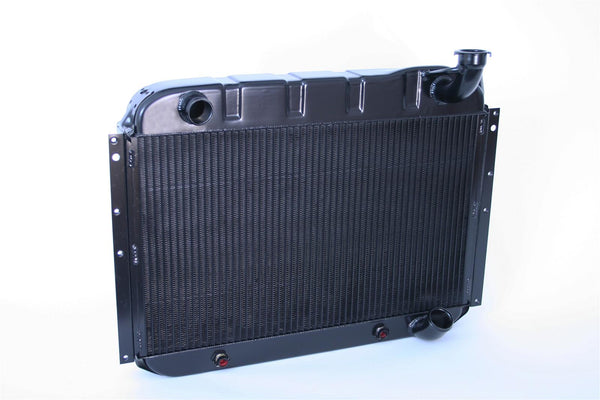 DeWitts: 1955-60 Corvette, DF Automatic Aluminum 2 row 1" tube, Black Ice

1955-60 CORVETTE
This aluminum radiator is the ONLY true Direct Fit® radiator on the market. DeWitts Pro-Series aluminum radiators feature two rows of 1.0" wide cooling tubes which provides a 25% increase in cooling performance. Our Direct Fit® aluminum radiators feature factory type press formed end tanks, and serpentine fins. Each radiator core is assembled and brazed in our state of the art aluminum brazing furnace. DeWitts radiators are also epoxy free and come with a limited lifetime warranty.  Direct Fit® is our official trademark and it means your radiator will fit, without modifications.This unit will double the cooling capacity and it only weighs 12 lbs.
Model 1139055M  (Natural/Man)      (NaturalAuto)                     Pro-Series Radiator/Fan Combinations 
The packages below includes our Direct Fit® aluminum radiator, full face aluminum shroud with (6) rubber check valves, and a high performance 16" spal Fan. Due to the fan motor size, there may be interference with the factory suspension on 1958-60 model Corvettes. The kit includes one wire harness and temperature switch.This package should only be used on cars with alternator conversions. 

FAN SPECIFICATION: 16" SPAL FAN (2360 CFM 21.6 AMPS)
Model: 4139055M (Natural/Manual)                       ® aluminum radiator with a full face aluminum shroud and a Spal 16" electric fan. Incorporated into the shroud is six 6) rubber check valves which open at high speed.   The kit includes one wire harness and temperature switch.
LOW-PROFILE  (1610 CFM @ 11 AMPS)
Model: 4139058M (Natural/Manual)