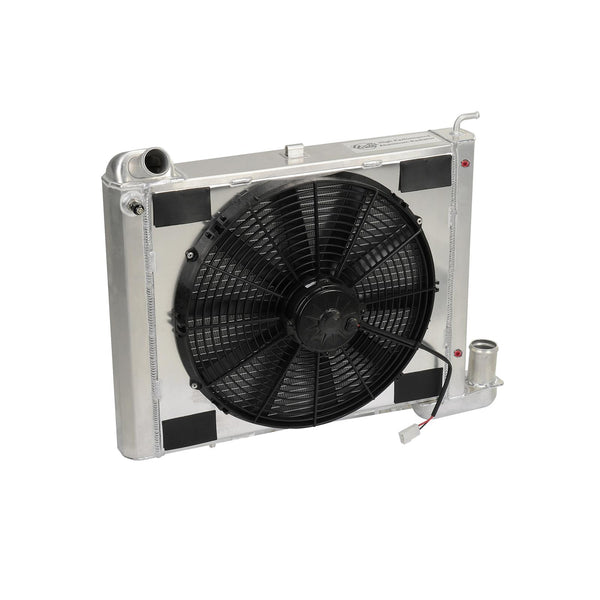 DeWitts: 1963-67 Corvette,SB all, Auto. Aluminum Single 16" Spal Fan & wiring

1963-1972 SB CORVETTE
Note for 1968-72 Corvettes.  This unit was used on base model Corvettes, without options, such as AC, Automatic, or Optional engines. If your Corvette was equipped with anyone of these options, Click Here
PRO-SERIES (2 ROW 1.0" TUBES)
DeWitts Pro-series aluminum radiators feature two rows of 1.0" wide cooling tubes which provides a 25% increase in cooling performance. Our Direct Fit® aluminum radiators feature factory type press formed end tanks, serpentine fins, and the factory type upper and lower channels. Each radiator core is assembled and brazed in our state of the art aluminum brazing furnace. DeWitts radiators are also epoxy free and come with a limited lifetime warranty.  Direct Fit® is our official trademark and it means your radiator will fit, without modifications. 
1139063M    (Natural/Manual)        (Photo)

1

139063A    (Natural/Auto)            (Photo)1239063M   (Black/Manual)           (Black/Auto)            
PRO-SERIES COMBINATIONS
This package includes our Direct Fit® aluminum radiator and the Spal 2360 cfm fan. The fan is mounted directly to the radiator with a full coverage aluminum shroud. This package is designed to eliminate the factory engine driven fan and shroud. The factory shroud will fit over the electric fan if you prefer to keep it in place. The kit includes one wire harness and temperature switch. 
4139063M  (Natural/Manual)   (Natural/Auto)     (Combo/Black)    (Combo/Auto)  
® and available with the same details as listed above.  
1149063M  (Natural/man)      (Natural/Auto)      
1249063M (Black/Manual)    (Tom's Choice) ! 
1249063A (Black/Auto)                                 
California Proposition 65 Statement