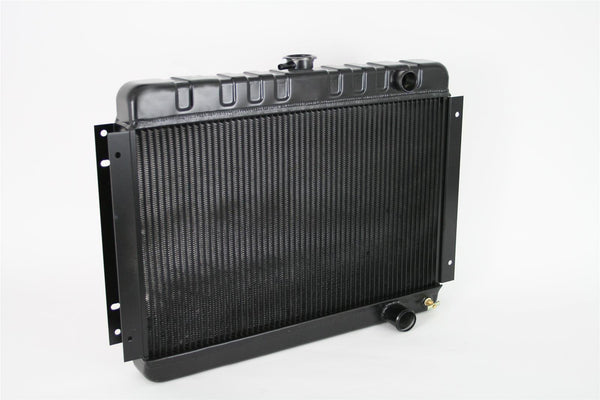 DeWitts: 1964-65 CHEVELLE SB / BB DF, Manual, Black Ice, HP 2 row 1.25"

1964-65 CHEVELLE ALUMINUM RADIATOR
PRO SERIES (2 ROW 1.00" TUBES)
DeWitts Pro-series aluminum radiators feature two rows of 1.0" wide cooling tubes which provides a 25% increase in cooling performance. Our Direct Fit® aluminum radiators feature factory type press formed end tanks, serpentine fins, and the factory type upper and lower channels. Each radiator core is assembled and brazed in our state of the art aluminum brazing furnace. DeWitts radiators are also epoxy free and come with a limited lifetime warranty.  
Direct Fit® is our official trademark and it means your radiator will fit, without modifications.
Model: 1139001M  (Natural/Manual)Model: 1139001A (Natural/Auto) Model: 1239001M (Black/Manual)Model: 1239001A (Black/Auto)
RADIATOR/FAN COMBINATIONS
Model: 4139001M (Natural/Manual)
Model: 4139001A (Natural/Auto)
Model: 4239001M (Black/Manual) 
Model: 4239001A (Black/Auto)
HP-SERIES (2 ROW 1.25" TUBES)
Model: 1149001M  (Natural/Manual)
Model: 1149001A (Natural/Auto) 
Model: 1249001M (Black/Manual)
Model: 1249001A (Black/Auto)
California Proposition 65 Statement