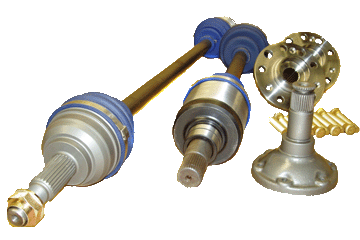 Driveshaft Shop: 1985-1987 VW Golf / GTI / Jetta 5-Speed Manual 750HP Level 5 Axle/Hub Kit

1985-1987 VW Golf / GTI / Jetta 5-Speed Manual 750HP Level 5 Axle/Hub Kit
Features:
Aerospace grade axle bars
Price listed for both axles
Rated to 750HP
1-year warranty
Product Description
This is our most extreme system for the 85-87 VW Golf / GTI / Jetta 5-Speed. What we have done is remove the drive flange going into the transmission and replaced it with an inner CV and spline plug. No more 108mm CV and flange, just a new billet inner like you would find on any of our VW Level 5 systems. These axles feature high grade aircraft quality axle bars and our 26 spline outer CV as can be found on many of our axle/hub kits. We also include a custom hub to accomodate the larger outer CV with mounting points for the factory ABS ring. This kit includes both axles, hubs and extended 12mm ARP wheel studs. This is the strongest kit you will ever need for your VW. Rated to 750HP with a 1-year warranty. Please Note: This Axle/Hub Kit is designed for drag race use only.