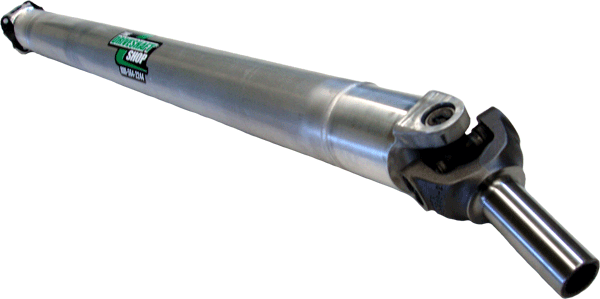 Driveshaft Shop: 1986-1992 Toyota Supra 3" Aluminum Driveshaft

Fitment:
1986-1992 Toyota Supra Turbo Manual|Automatic
Notes:
1-Year Warranty
US Models Only
This driveshaft is for the 86-92 Supra Turbo 5-Speed and 89-92 Turbo Automatic ONLY and will not fit the 86-88 Turbo Automatic or 86-88 Turbo Automatic with 5-Speed conversion. Use driveshaft part number TOSH3 (Aluminum) and TOSH3-S (Steel)
Product Description
This is the Aluminum replacement shaft for the 86-92 Supra Turbo manual and 89-92 Turbo Automatic. The 1-piece driveshaft is a complete 6061-T6 3" aluminum shaft that is approximately 20lb less than the factory 33lb 2-piece and will give the car a faster throttle response due to the lighter weight of the shaft and also the fact that the hanger bearing is not moving up and down during acceleration. This aluminum shaft will also be significantly more torsional than the factory steel shaft, resulting in a noticeably smoother ride and power transfer in a higher horsepower car. Available for most popular motor/trans combinations, if you don't see yours listed, custom shafts are also available.