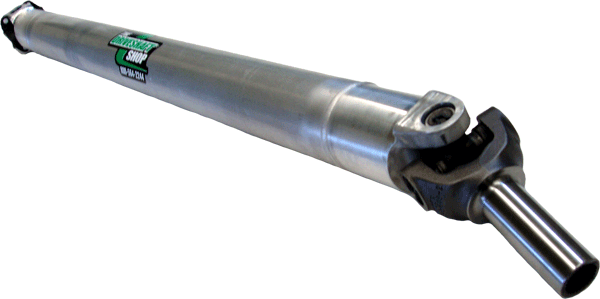 Driveshaft Shop: 1989-1994 Nissan 240SX S13 ABS w/RB25 5-SPEED(SYKO MOUNTS)-ALUMINUM

Fitment:
1989-1994 Nissan 240SX with RB25 (5-Speed) using Syko Mounts / ABS
Product Description
S13 ABS with RB25 5-Speed (Syko mounts) Aluminum Shaft. This is our single shaft conversion for the 240SX platform. This is a complete 6061-T6 aluminum shaft that is about 1/2 the weight of the factory 2-piece. The shaft features larger, replaceable and greaseable u-joints and can handle about 650WHP. By removing the factory 2-piece shaft and installing a single shaft the car will feel more responsive due to the fact the hanger bearing is not moving up and down during acceleration. Available for most popular motor/trans combinations, if you don't see yours listed, custom shafts are also available.

Please Note: Whether or not the car was equipped with ABS from the factory will change the length of the driveshaft. Be sure to check vehicle before ordering.