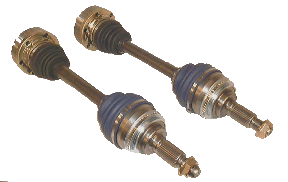 Driveshaft Shop: 1991-1999 Toyota MR2 550HP Level 2.9 Right Axle

Fitment:
1991-1999 Toyota MR2 (Non-Turbo) with Honda K-series and Hux Racing Mounts
Notes:
1-Year Warranty
These axles are for the MR2 non-Turbo model, will also fit the Turbo is using the non-Turbo hubs.
These are the Level 2 550HP direct bolt-in axles for the 91-99 Toyota MR2 with Honda K-series swap. They feature our proprietary direct bolt-in outer CV and 300M chromoly center bars. These axles also include our billet ball and cage style inner CV's to fit the Honda transmission and K20 intermediate shaft, and are rated to 550HP and come with a 1-year warranty.