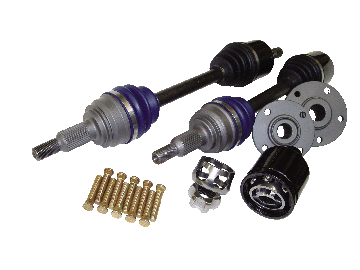 Driveshaft Shop: 1992-2001 Honda / Acura K-Series Pro-Level Axle|Hub Kit

Fitments:
1992-1995 Honda Civic
1994-2001 Acura Integra
Notes:
1-Year Warranty
This system does not come with ABS Rings
The Level 5.9/Pro-Level hubs are made for 94-01 Integra /92-00 Civic with ABS or 99-00 Si knuckles. If you are using these for a Civic that did not have ABS, you must change the knuckles to one of the above due to the wheel bearing size.
For the Prayoonto Gangsta Lean Mounts ONLY
The Pro-Level Honda/Acura systems are made to withstand the demands of the highest horsepower drag cars and can currently be found in the fastest FWD Honda's to date. Our Honda/Acura Pro-Level kit is a full drivetrain system that includes both axles, featuring our Porsche-style 108mm inner CV joints and bolt-on axle flanges, our signature 33 spline outer CV's and the larger hubs to accommodate them. The most significant part of the Pro-Level System is that we are replacing the standard 27 spline differential spline with our 40% larger 28 spline transmission spline plug and intermediate bar, for use with the DSS 28 spline Pro Limited-Slip Differential (DSS Pro-LSD sold separately). This system includes all the hardware necessary for the install and comes with our full 1-year warranty. And if you already have a set of our Level 5.9 axles, they can now be upgraded to Pro-Level axles for much less than purchasing a new set. When you're ready to go for records and challenge the biggest names in FWD drag racing, the DriveShaft Shop Pro-Level drivetrain is the only way to go. This is drag race-only application made to withstand over 1000WHP.