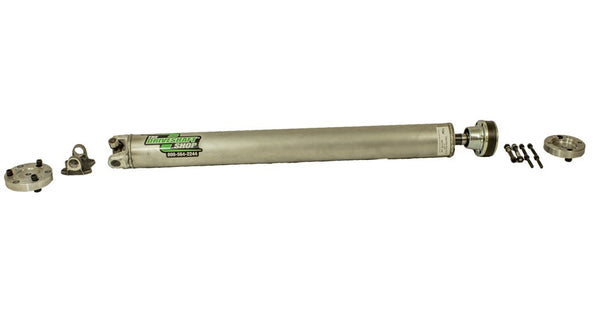 Driveshaft Shop: 1993-1998 Toyota Supra Turbo with 6-Speed 1-Piece 3.5'' Aluminum CV Shaft

Fitment:
1993-1998 Toyota Supra Turbo with 6-Speed
Features:
1-piece 4" Aluminum driveshaft
300m stub system
Rated to 1000WHP
1-year warranty
Product Description
This is our complete 1-piece 4" Aluminum driveshaft for the 1993-1998 Supra Turbo 6-Speed. This is a complete shaft made with 4" tube and replaces the factory rubber couplers with 1350 series u-joints and includes precision billet plates designed to maintain perfect centerline from the transmission to differential and mount to the factory front and rear flanges, along with all hardware necessary for install. Our shaft comes with a 300m stub system mounted into a billet aluminum plate to ensure not only strength but lighter weight than the normal way of doing this type of end (look closely at the CV end its not all steel) The shaft only weighs 25lbs and come with special 12.9 grade hardware with back up lock nuts to ensure no loose bolts, we have been using this Billet aluminum style plate for over 10 years on thousands of 1000+Hp Supra's-BMW's and many more with out any bolt issues.
This driveshaft is rated to 1000HP and includes our 1-year warranty.