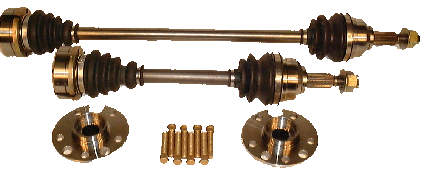 Driveshaft Shop: 1993-1998 VW Golf / GTI / Jetta (Manual / 4 cyl) 500HP Level 3 Axle/Hub kit

Fitment:
Volkswagen Jetta Manual 4-Cyl 1993-1998
Features:
Aerospace grade axle bars
Price listed for both axles
Rated to 500HP
Product Description
This is our Level 3 500HP Axle/Hub system for the 93-98 4-cylinder VW Golf / GTI / Jetta 5-Speed. This system starts with a set of high grade aircraft quality axle bars with our unique double temper and heat treat that makes them stronger and significantly more torsional than the factory axle bars. The inner CV features a proprietary cage and race set and the outer CV is about 40% larger than the stock VW one and we also include a custom hub to accommodate the larger outer CV spline. This kit includes both axles, hubs and extended 12mm ARP wheel studs. This system can also be made in custom sizes for hybrid applications also. Rated to 500HP with a 1-year warranty.