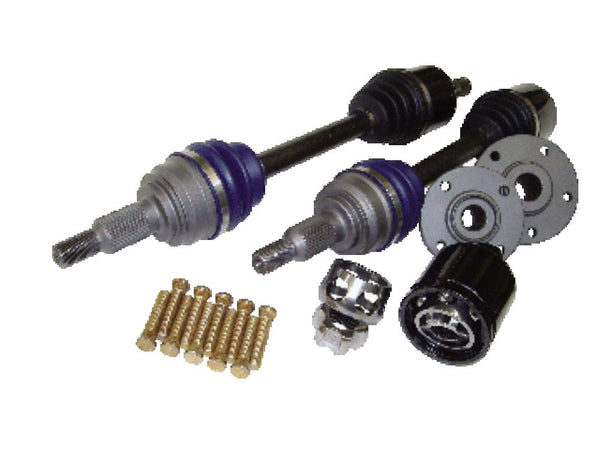 Driveshaft Shop: 1994-2001 Acura Integra (DC2/4) & 1992-2000 Honda Civic (EG/EK) (with ABS hubs) B-Series 850HP Level 5.9 Axle/Hub Kit

Fitments:
1994-2001 Acura Integra (DC2/4)
1992-2000 Honda Civic (EG/EK)
Notes:
This system does not come with ABS Rings.
The Level 5.9 hubs are made for 94-01 Integra /92-00 Civic with ABS/96-00 EX or 99-00 Si knuckles. If you are using these for a Civic that did not have ABS, you must change the knuckles to one of the above due to the wheel bearing size.
Level 5.9 Axle/Hub system 850HP for 92-00 Civic / 94-01 Integra with a B-series motor and Hydraulic trans (1 year warranty). The new level 5.9 axle/hub set, similar to our Level 5 system but with some major upgrades, the inner cv and now featuring our new tapered high quality aircraft grade axle bars. We now have created a Pro race worthy system that works with the standard spline size on the differential end, that can be used with Quaife, Wavetrac and other aftermarket limited slip diffs and spools. What we have done is made a new ball & cage inner cv from high quality chromoly. This inner cv now has 6 contact points and is stronger than a Porsche 930 (108mm) cv (same cv used by many high dollar systems). This along with the 33 spline outer and new 36 spline tapered bars makes it the strongest set of axles to date. The Kit comes with both axles and a set of custom hubs that will fit the stock bearing sizes and extended ARP studs. This system is designed for 850WHP and tire size will not affect its strength.

Also, don't forget to check out our intermediate bars and spools also listed on the site. If you need this system custom made please don't hesitate to call/e-mail, we have an entire wall of axle bars in many different sizes and we would be able to make a custom set in a very short time. DSS is dedicated to bringing you the best drivetrain products at a an affordable price. When you're serious look our way.