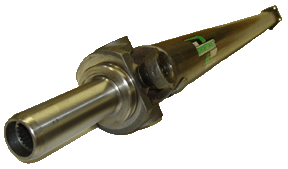 Driveshaft Shop: 1995-1998 NISSAN S14 with RB25 (5-Speed) using Syko Mounts / Non-ABS / Steel driveshaft

Fitment:
1995-1998 Nissan 240SX S14 with RB25 (5-Speed) using Syko Mounts / Non-ABS
Product Description
S14 Non-ABS with RB25 5-Speed using Syko mounts Steel Shaft. This is our steel 1-piece replacement shaft for the 240SX platform. This shaft is about 5lb less than the factory 2-piece and will give the car a faster throttle response due to the fact the hanger bearing is not moving up and down during acceleration. A less expensive alternative to our aluminum shaft, it has been suggested by a few of the drift cars that we sponsor the steel shaft breaks the tires loose quicker than the aluminum. This steel shaft will give you most of the benefits of the aluminum shaft, without the cost.

Please Note: Whether or not the car was equipped with ABS from the factory will change the length of the driveshaft. Be sure to check vehicle before ordering.