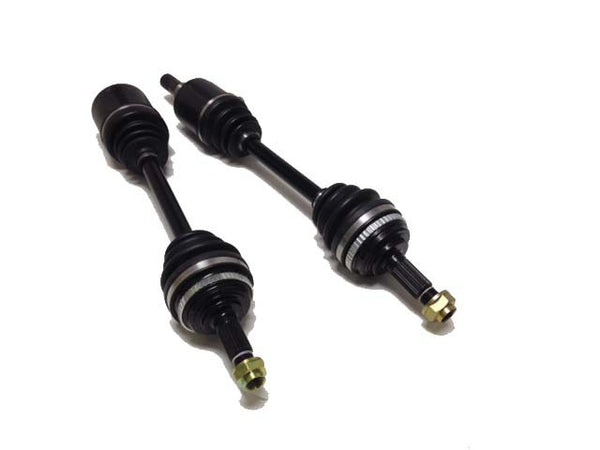 Driveshaft Shop: 2001-2005 Honda Civic Si 475HP Level 2.9 Right Axle

Fitment:
2001-2005 Honda Civic Si (EP Chassis and ES/EM w/K-Series Swap)
Notes:
1-Year Warranty
Will not fit EP Civic Type-R models, please see RA4008X2 / RA4009X2
Product Description
2001-2005 Honda Civic Si (EP3 Chassis and ES/EM w/K-Series Swap, will not fit EP CTR) 475HP Level 2.9 Axles. Our unbelievable Level 2.9 axles are now available. These axles are for the extreme street/track machine and designed to handle 475HP forced induction or all-motor (yes that\'s right) at the wheels. These axles are the result of our extreme track testing. The inner and center bar is borrowed from our track tested Level 3 system, using a new proprietary material and our solid torsional center bars, chromoly spline plug and high grade inner housings with oversized tripod. What makes this stand apart from the rest is the new outer cv made from high grade chromoly that has one of the wildest heat treats known to man. During destructive testing it broke a 300m bar!!! It\'s designed to fit the standard 26 spline size of the Honda/Acura platforms. These axles come with blue boots and removable ABS rings.