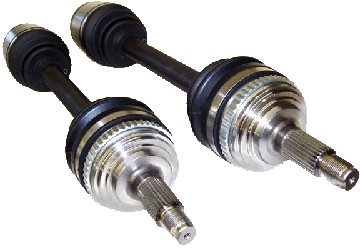 Driveshaft Shop: 2002-2006 Acura RSX-S Basic Level 0 Right Axle

Fitment:
2002-2006 Acura RSX Type S
Notes:
Warranty: none against breakage
Just a swap axle no HP rating
Product Description
EP3 Civic Type R Level 0 Axles (for non-Type-R model, order as 2001-2005 Civic EP)
These are the new Level 0 performance axles. Using a chromoly center bar, a real billet inner cv with a larger oversized tripod and a new heat treat on our 1117 billet outer. The outer cv is custom made with a single arc design; this is a time/wear advantage over the factory Honda dual arc design that tends to wear out prematurely. This is a superior axle for any stock replacement or swap. Axles come with removable ABS rings. These axles are designed as an alternative to cheap re-builds or inferior aftermarket axles on the market today. It is a quality axle and better than any Mount company's "Swap" axle, it's just not what we would consider a real racing axle (sorry no warranty against breakage).