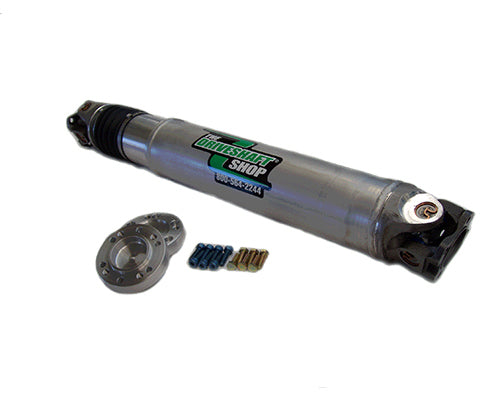 Driveshaft Shop: 2004-2008 Driveshaft Honda S2000 1-Piece Aluminum CV Driveshaft

Feature:
1-piece aluminum driveshaft
Includes Precision machined billet plates
1-year warranty
Fitment:
These were designed incorporating our proven 108mm CV technology at the transmission side, with an all new billet aluminum adapter to mount to the transmission. The 108mm CV will act as the slip and pivot point for the driveshaft, and it is significantly larger than the OE driveshaft CV to handle as much HP as you can put to it. The CV itself has also been machined to shed excess weight. At the rear we are using a solid 1310 series Spicer u-joint, with a billet aluminum flange that is a larger pattern than the previous version so it is easier to install. The flange will mate up to a billet adapter plate designed to mount to the stock differential flange. The tube on both aluminum and carbon fiber versions are internally dampened as well to decrease noise and harmonic transfer through the drivetrain. These are a direct fit with no modifications required, and we include grade 12.9 hardware to install it.