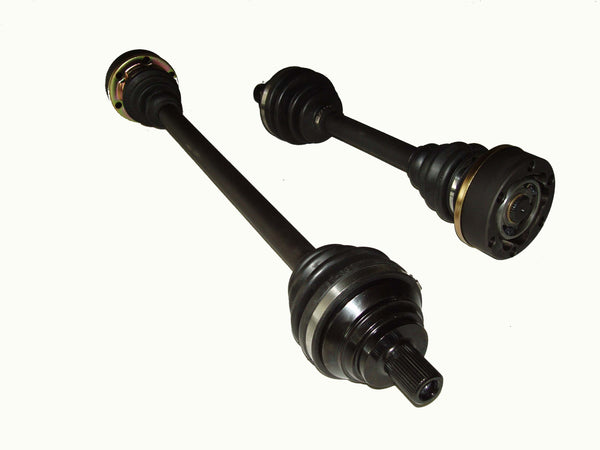 Driveshaft Shop: 2005-2011 Volkswagen 800HP Level 4 Left Axle

Fitment:
2005-2011 Volkswagen Rabbit / GTI / Jetta / Jetta GLI 2.0 & 2.5 6-Speed Manual
Product Description
The direct bolt-in 800HP axles are now available for the 2005-2011 Rabbit / GTI / Jetta / Jetta GLI 2.0 & 2.5 6-Speed Manual. These axles feature a direct fit outer CV that will fit the factory hubs and is made from a special proprietary material that is designed for high horsepower applications. The axle bars are made from a high grade aircraft quality material that is much more torsional than the factory axle bars, allowing them to twist and absorb shock loads, with a spline size that is significantly larger than stock. The inner CV is a108mm Porsche-type CV, with our proprietary cage and race set that is used on our highest level axles. The axles come with new bolts to mount the axles to the factory transmission flanges (must re-use the factory spindle bolts) and are complete and ready to install.