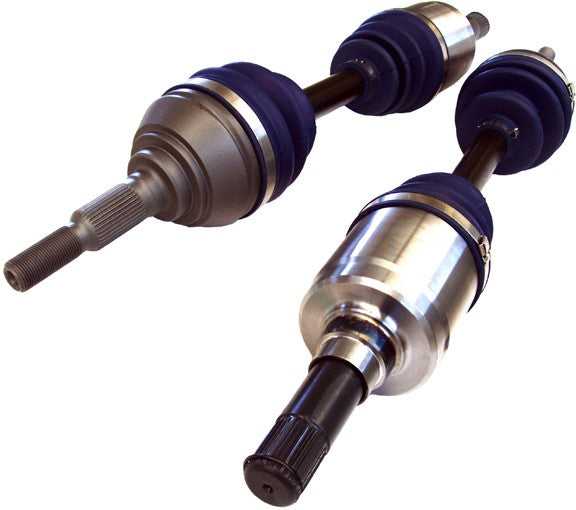 Driveshaft Shop: 2006-2008 Chevrolet Cobalt 400HP 2.4 SS Non-Supercharged Level 2 Right Axle

Fitment:
2006-2008 Chevy Cobalt/Saturn ION
Notes:
Product Description
This is the new Level 2 axle set from The Driveshaft Shop. Over the years Chevy has had a reputation of having very strong drivetrains. Unfortunately this car does not follow the same heritage as the early muscle cars of yesteryear (sorry). Let's start by looking at the factory center bar. Unfortunately the engineers seemed to have been pushed towards corporate bean counting instead of driveline excellence. This factory bar has a miniscule 23 spline that tapers down at the outer end that makes the center very weak. The outer CV is also made from a lower grade material and will just about handle the factory power. Our Level 2 axle has a larger 4340 chromoly center bar with a full 32 splines and the outer CV is not only made from a stronger material but has a 30% larger cage for even more strength. The ABS sensor is in the hub so no worries there. The inner CV has our standard spline plug design with a larger tripod (larger posts and more needles). All in all the axle will handle up to 400WHP and keep your car from the hooks of a tow truck on race day. So if you're ready to go hunting for a race, remember without axles it may be a faster race than you wanted.