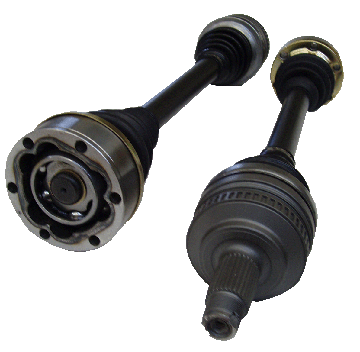 Driveshaft Shop: BMW 2000-2004 E46 M3 Rear Axle Bar / CV Upgrade

Fitment:
The Rear Axle Bar and Inner CV upgrade for the E46 M3 is now available. We have developed a set of axle bars, inner CV and outer CV internal upgrade, using our 36 spline high grade aircraft quality bars (stock axle bars are 28 spline) and a custom chromoly CV cage and race set makes these axles practically indestructible. Our chromoly 108mm inner CV is a direct replacement for the stock unit, and features full aerospace grade internals. The factory M3 outer CV housing is made from a very strong material, and we upgrade the internals to an aerospace grade set also.

You must send in your factory OEM axles so we can assemble this set. We will temper and shotpeen the outer housings, install factory style metal covers on the outer CV (double o-ring sealed), install our new cage/race internals along with our 36 spline bars and 108mm inner CV. Rated to 1000HP with a 1-year warranty.