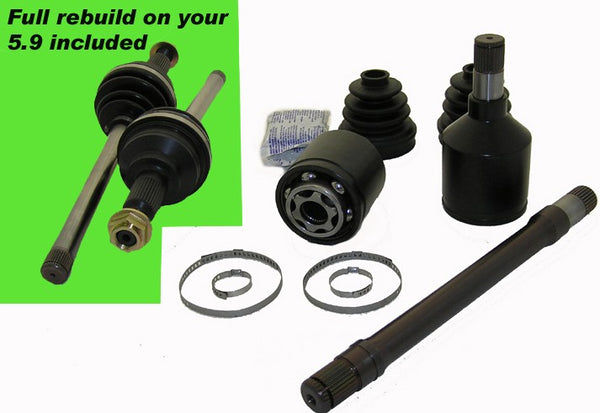 Driveshaft Shop: HONDA K-Series Pro-Level Axle Upgrade with Intermediate Bar for Level 5.9 Axles

Product Description
If you have already purchased a set of Level 5.9 axles and are planning on making more than the 850HP they are rated for, we now have an option for you. Instead of having to buy a new Pro-Level set, we can upgrade your Level 5.9 axles to the Pro-Level axles for much less than purchasing a new set. The most significant part of the Pro-Level System is that we are replacing the standard 27 spline differential spline with our 40% larger 28 spline transmission spline plug and intermediate bar, for use with the DSS Pro-Level 28 spline spool, or DSS 28 spline Pro Limited-Slip Differential.
This upgrade includes inspecting and rebuilding your Level 5.9 outers and bars, upgrading the inner CV's to the larger Pro-Level Ball and Cage inners with the larger 28 spline transmission spline plug and Pro intermediate bar (DSS Pro-Spool and DSS Pro-LSD sold separately). When you're ready to go for records and challenge the biggest names in FWD drag racing, the DriveShaft Shop Pro-Level drivetrain is the only way to go.
This is drag race-only application, made to withstand over 1000WHP.
Please Note: Must send in Level 5.9 axles to upgrade, please call for RMA number