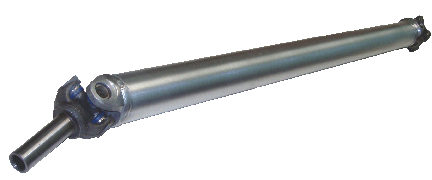 Driveshaft Shop: MITSUBISHI 1991-1992 Galant VR-4 650HP Aluminum Driveshaft

Fitment:
1991-1992 Mitsubishi Galant VR-4
Product Description
This is our 3.5" aluminum drive shaft for the Galant VR-4. This shaft is designed to replace the first 2 shafts of the factory 3-piece system. They are made from 6061-T6 aluminum and 3.5" in diameter, it also includes a custom 7075-T6 aluminum plate to convert the CV back to a u-joint style end and bolt to the factory rear shaft section. The first 2 pieces of the stock shaft is 22lbs and our single is only 12lbs. The aluminum shaft is also more torsional than the shorter steel shaft and will help save the rest of the drivetrain from the harmful shock factor of launching the vehicle at the track. We were going to try to make a single shaft but due to Critical speed limitations it would need to be 4" in diameter and would not fit under the car and also the operating angles would not allow for a 1-piece shaft to work. The front angle was 2 degrees and the back was 7 degrees (not good), the problem is the rear joint would move more than 2 times as much as the front and cause a very nasty vibration. The AE-7 manual of Automotive engineers doesn't recommend any driveshaft to have more than a 1 degree difference from one operating angle to the other (this would be a 5 degree spread). Some of the carbon fiber shaft company makes this shaft but the angle problem still remains and in our opinion will cause the fiber to tear over time and fail. This shaft is rated for 650HP and comes complete with a conversion plate for the CV end and all hardware to make this a job that can be done in the garage.