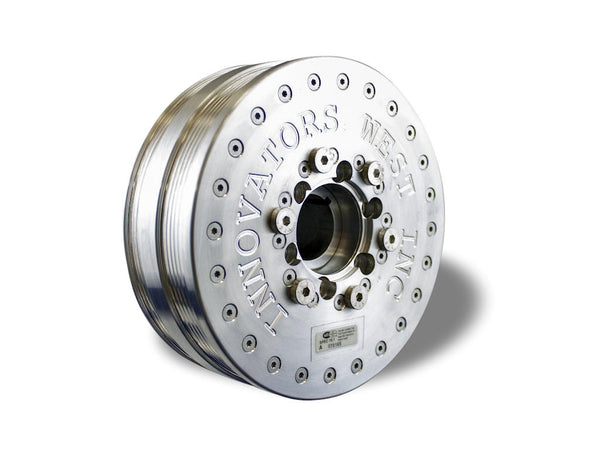 Innovators West: 2010-2015 Camaro LSX, GM 1999-2013 Trucks & 06-08 TBSS 6-Rib Harmonic Balancer Standard Diameter

SFI 18.1 Harmonic Damper for for GM 2010-2015 LSX Gen 5 Camaro, GM 1999-2013 Trucks & 06-08 Trailblazer SS - w/ Crank Bolt. Features 6 Rib drive & Std. Dia. Pulley.
This damper comes standard with 3/16" Keyway for use with aftermarket crankshafts.
Options
Dual Keyway Option - Add $20.00


Add dual keyways for Supercharged or Extreme Duty Applications. Requires double keyed crankshaft snout.

LS Crank Pin Kit - Add $75.00


#968

Crankshaft Pin Kit for GM LS Trucks, TBSS and Gen 5 Camaro's. Designed for use with Innovators West dampers. For Stock Crankshafts Only.

LSX Blower Hub Option - Add $25.00


The super duty hub has increased material for supercharged applications.This increased material helps to protect the hub from cracking in high load applications. The super duty hub is recommended for supercharged applications making over 750 rwhp. Includes matching timing cover oil seal.
Details
Diameter: 7.25"
Weight: 8.8 lbs
Exceeds SFI 18.1 standards and is marked on front with SFI Sticker, and on the rear with SFI number stamped into unit.