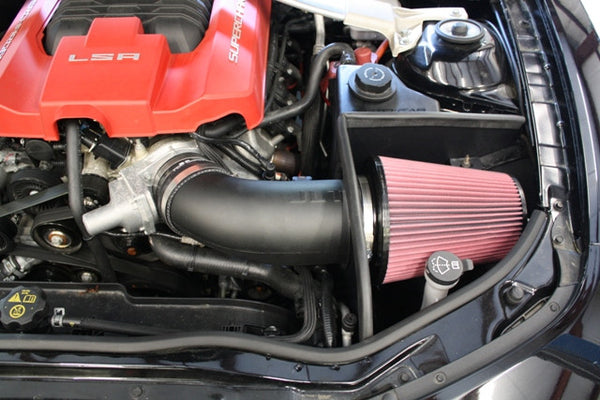 JLT: 4.5" Air Intake [Camaro ZL1 gen 5, LSA]
Vendor:
JLT

DISCONTINUED 

JLT's Cold Air Intake kit for the 2012-15 Camaro ZL1 are designed to make huge power this new kit has a large 123mm ID at the MAF and a 4.5" opening at the throttle body to meet up to the biggest the aftermarket has.

WEAPON-X offers full supercharger porting services for 102mm throttlebodies as well as the 102mm TB

This huge 5" opening requires a massive filter. We love the tapered flange design and Powerstack filtered ends of S&B's filters and ended up with a monster 5x9" filter. With deep pleats and a built in screen to straighten air flow across the MAF you don't get much better than this. Finish it off with a silicone reducer and stainless clamps and you got the BEST Intake on the market!!!

NO METAL TUBING HERE!!
TUNING REQUIRED!
MOLDED IN MAF - It's a full 123mm ID at the MAF area

HEAT SHIELD
Includes ABS plastic heat shield to block engine heat at idle and low speed.
It incorporates the fresh air inlet from the grill.
It uses a large area to make sure the filter has tons of cool air.

KIT INCLUDES:
•JLT Textured Plastic or Painted Intake Tube
•Silicone reducer
•5x9 S&B Powerstack Air Filter
•ABS Heat Shield
•HD Clamps, & all needed hardware

FINISH OPTIONS
Standard finish is an OEM looking black textured plastic and also available in your cars exact body color. All painted tubes receive a special treatment so paint adheres correctly to the plastic and go through an in-depth process to remove all the texture. We then use only the best quality materials to give each tube a smooth gloss finish. Please allow 7-10 business days for painted kits to ship.
Now also available in Hydrocarbon

Through an awesome process called Hydrographics, the intake tube is made to look like carbon fiber. The tube is painted and then dipped in a water solution with a carbon fiber print film that adheres to the part when removed. Tube is then clear coated for a durable finish. See picture of intake tube below and hydro carbon option in the Intake Tube Options. Please allow up to 2 weeks for hydrocarbon orders to ship.

GAINS AND TESTING
We have tested on stock and modded ZL1's with awesome results. With Brent Hughes' tune and the SCT X4 we have seen 45 RWHP over stock and on a modded ZL1 (cam, pulley, headers and more) we saw 30 RWHP over the competitors cold air intake!

EASY INSTALL
Detailed instructions help make this an easy install.
Install Instructions

AIR FILTER OPTIONS
OIL OR DRY
We use only the best air filters made by S&B to our specifications.
For years we only used oiled filters, but dry filter technology has been proven and is now a popular option.
Should I choose a Dry Disposable or Cotton Oiled Filter?
Since you are not sacrificing performance with either choice, the decision comes down to would you rather throw away the filter or clean it.

Dry: Comparable airflow to oiled cotton filters with the same great protection.
Last for up to 30,000 miles of highway driving. Extend the life of the filter using compressed air.

Oil: Oiled filters can last forever as long as you properly clean and re-oil it.
See picture of filters below. Oil filters are available in red or blue and Dry filters are white.

MAINTENANCE
To properly clean your oil filter, we recommend the S&B Precision II Cleaning & Oiling Kit.

Not C.A.R.B. approved
· Green high flow air filter
· Highly-Skilled hand TIG-welding
· 304 Stainless-steel hardware
· 4-ply high-temp black silicone couplers
· High-quality stainless-steel screw clamps
· 304 Stainless-steel TIG-welded 4 or 4.5" tubing
· Powder coated finish - stock paint code and hydro dip coating options
· Approximately 1 hour to install, includes installation instructions.
· 100% Made in the U.S.A