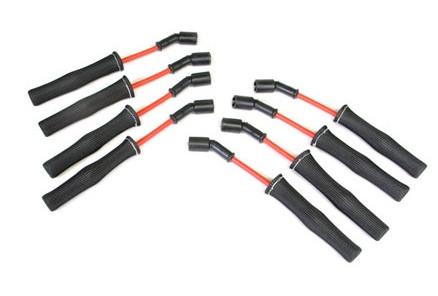 Magnecor: Spark Plug Wires [C6 Corvette Camaro CTS V, LS3 LS7 LS9 LSA]

Magnecor is a manufacturer of technically advanced ignition wires (spark plug wires, ignition leads, high tension leads). Magnecor's head office and factory are situated in Farmington Hills, Michigan, USA (Detroit metro area).  Shielded Hi-Performance Spark Plug Wires Set

Hi-Performance LS spark plug wires built to our standards, which mean they are built specifically for gen 4 LS engines and have the necessary heat protection for your long tube header installation. Our LS performance spark plug wire sets begin with a heat shielded Magnacor wire. Magnecor's exclusive 2.5mm high capacity Metallic Inductance EMI Suppressed conductor consists of a stainless steel wire precisely wound at 200 turns per inch over a ferromagnetic core. The insulating jacket is made entirely of Magnecor's exclusive TC-1500-HS high strength aerospace grade silicone rubber, and its single layer construction will prolong the jacket's insulating ability by conducting extreme heat away from hot-spots that occur near over-the-limit heat sources.

The protection provided from the heat shield guarantees that this will be the last set of spark plug wires you will ever have to replace from header burn. The 8.5mm jacket has a service heat resistance of 600 degrees F (320 degrees C) and up to 1,000 degrees F (540 degrees C) for a short burst of 3 minutes. Even if limits are exceeded, the silicone rubber will retain its insulating ability until wires are removed from engine.

Magnecor wires are primarily designed and constructed to be used where it is essential to prevent the possibility of ignition wires compromising engine performance. Modern race engines, modified street engines and stock street engines which rely on electronic devices to control the function of either or both the ignition and fuel systems are prone to interference from all other spiral conductor ignition wires sold through performance parts outlets, none of which can provide proper suppression for EMI, particularly if a high-output ignition system is used.