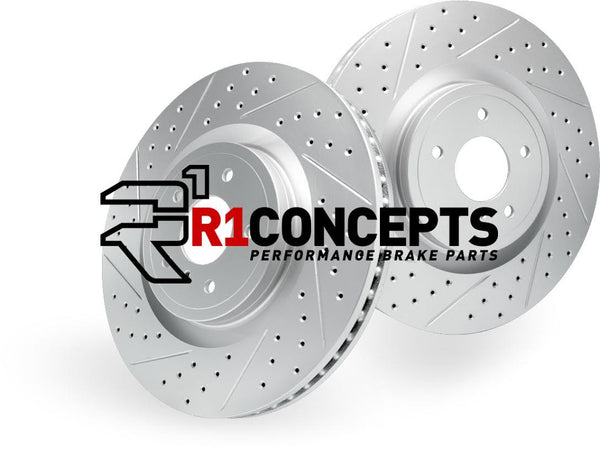 R1: Carbon Alloy Geomet Rotors [CTS V, Camaro ZL1, LSA]

Features:
- Cross-Drilled &/or Slotted Design 
- Drilled holes provides maximum air circulation for increased cooling
- Diamond slots reduces debris and prevents pad glazing
- Chamfered holes for increased durability
- Double disc ground finish reduces rotor vibration
- Meets or exceeds OEM standards
- Same Vane count as OEM parts
- Mill balanced ensures long lasting durability
- High Carbon
- Black Electro-Coated for rust protection
- Fitment guarantee
OE Vane Configuration
Each rotor is engineered to match the OE vane configuration, including the OE split-core technology to ensure proper and maximum heat dissipation. Additionally, all cores are dipped with a specifically formulated paint in order to provide a smoother finish inside the vane structure. The smooth finish will improve air flow as well as reduce the amount of machining required in order to properly balance the finished rotors during the mill-balancing process.


Geomet Finish
We apply a genuine Geomet Finish through the entire part, which promises to deliver superior corrosion protection. The Geomet coating is processed dry, shipped dry, and ready to install without any additional preparation. Without the need to clean an oil covered rotor, this save a tremendous amount of time and money during the installation process. The Geoment Finish is simply and safely swept away by the friction material with no harmful effects.
-Superior Corrosion Protection- Provides excellent cyclic corrosion performance when tested to automotive manufacture's test methods incorporating heat, salt spray (withstands 400 hours), and humidity (SAE J2334, GMW 14872, Ford CEPT: 00.00-L-467, Asian CCT)
-Environmentally Friendly: Meets the following regulations: Environmental Protection Agency (EPA), Chrysler CS-9003, General Motors GMW 3059, Ford WSS-M99P9999-A1 (Hex 9), the EU Directives on End of Life Vehicles (ELV) and Electrical Equipment (RoHS).


High Carbon
Manufactured for European and heavy vehicles, our High Carbon iron formulations enhances noise dampening characteristics, while providing high strength, and increased thermal conductivity compared to standard discs, which increases durability.
Diamond Slots
With exclusive Diamond Slot technology, each brake rotor reduces debris and prevents brake pad glazing by capturing and removing debris as you brake and drive. The end result is better braking, longer pad life, and reduction in unnecessary rotor wear. The diamond ends are also used as an indicator of when you need to replace your rotors, once the tips are gone, it's time to replace. No more guessing or unnecessary trips to the mechanic.
Cross-Drilled
R1Concept's Cross-Drilled rotors helps prevent warping of the rotor by releasing heat and cooling the rotor by up to an additional 105 degrees Fahrenheit when compared to non-drilled rotors. In addition, all cross-drilled rotors are chamfered, meaning there is a slight slant at the opening of the hole. Our chamfering process reduces the chances of rotor cracks without compromising performance.
*note- R1 has been dealing with materials delays for their products, once your order is accepted it cannot be cancelled. Please reach out via our social media pages if you have any questions.