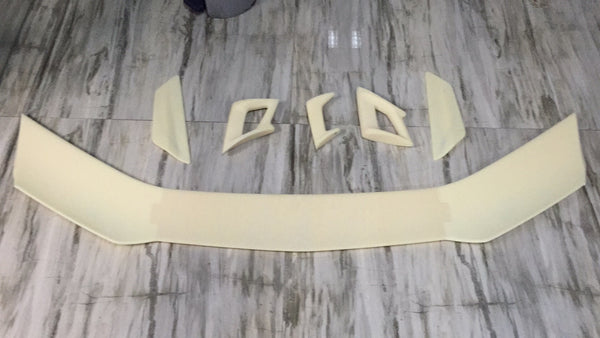 WEAPON-X: ZLX Wing ZL1 1LE Style - Carbon Fiber [Camaro gen 6]

Do you love the look of the ZL1 1LE high wing?  We've released two version of the ZL1 1LE style wing, one similar to OEM sizing and the other is larger for you guys looking for more down force paired with our ZL1 1LE style ZLX or larger ZTXL splitter?  This is a direct replacement for the Camaro SS and ZL1 guys and we sell the complete kit for the rest of the Camaros for a fraction of the cost of the $5,000 OEM kit!  This is standard 2:2 weave which matches the OEM carbon weave as well as our aftermarket carbon products.


WEAPON-X Camaro ZL1 1LE Style ZLX and ZLXL Wings Feature:
Center-lined part with symmetrical carbon weave (V pattern)
OEM matching pattern - 2:2 weave
Direct replacement for Camaro gen 6
UV clear coat
Prepreg carbon for precision quality


Options:
1.  High Wing Size
ZLX - Similar to the standard OEM ZTK wing size
ZLXL - Over 5" wider and larger than the ZLX wing; however, this wing is still within the fenders from the back of the car.  Creates an extra 10% downforce!


2.  Brackets
Low (-50mm)

 - lowers the wing enough for drag racing and easy hatch access

Standard
High (+50mm) putting it in line with the top of the roof
All 3 - low, std, high


While the manufacturer is working diligently on the lead times, manpower issues have production around about 20 weeks.

*NOTES*
Carbon fiber requires a lot of hand work and while we strive to have our parts perfect, just like the OEM carbon fiber, there can be slight imperfections.  Rest assured, these parts are as good as OEM, if not better.  



WXM aero are custom/made to order parts. If you order during a sale period, the lead time can increase slightly depending on order volume. All aero parts are custom order and can not be cancelled as per our cancellation policy once the order is confirmed and accepted.