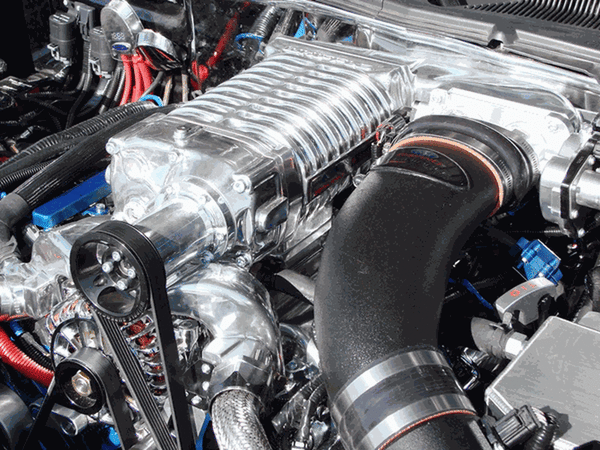 WHIPPLE: [ 05-10 Mustang GT ] (2.3L) Intercooled Supercharger Kit

NOTE: ALSO AVAILABLE IN POLISHED FINISHES. PLEASE SELECT ABOVE.
Whipple Supercharger kits for the 4.6 Ford Mustang add much needed power for street or strip applications. Each Whipple supercharger for the 2005-2010 Mustang adds 500+ HP for incredible gains in acceleration and reliable torque. Whipple Superchargers have paved the way for forced induction applications over the years and truly set the industry standard when it comes to power, reliability and overall customer satisfaction. Whether your looking for a daily driver that needs a little more punch or your craving a tire-frying, rubber shredding street machine, the Whipple Supercharger systems delivers like no other SC system today. Power from tip in to redline, the new Whipple SC system makes over 75% power across the entire rpm range while maintaining industry leading drive-ability.

- Whipple W140AX Supercharger 2.3L
- Gains 550HP & 540TQ
- Intercooled For High Efficiency
- High Flow Fuel Pump
- Whipple PCM Calibration
- Great Power Across the Entire RPM Range
- Closed Box Air Filter System For 2008-10 Models
With years of OEM and racing experience, Whipple and Ford engineers developed a unique PCM calibration that reconfigures all the necessary engine functions including fuel, spark, knock detection, torque management, transmission control and electronic throttle control. The Whipple PCM calibration set such new standards for engine control and monitoring that some 08' model OE vehicles will be adapting to the new software. The vehicles PCM constantly monitors the engines torque output while monitoring many different parameters to keep the engine in its ideal parameters. If a parameter falls below specification, the PCM will lower boost and torque output until the problem can be cured. No other calibration in the field has such technology, giving the Whipple SC system unheralded performance and reliability.
EXCLUSIVE FEATURES:
Instant boost, zero lag time for incredible throttle response
Revolutionary W140ax (2.3L) Whipple twin-screw supercharger
Massive 5" thick aluminum intercooler for superior cooling
Oversized aluminum heat exchanger for increased cooling capacity
Aluminum intercooler reservoir
Ford GT 34lb/hr fuel injectors
0 degree Ford Racing spark plugs
Twin screw supercharger is the most efficient SC on the market
Exclusive TRUE cold air intake system with 9" S&B "True-flow" filter
Self contained oil system, no tapping oil pan
Industry leading 95mm mass air flow meter
Exclusive cold air intake system with 9" S&B "True Flow" filter
Whipple PCM calibration for industry leading power, reliability and durability
Zero tuning required, all pre-set
Bolt-on system
Fits under stock hood.
Proposition 65

WARNING: Cancer and Reproductive Harm