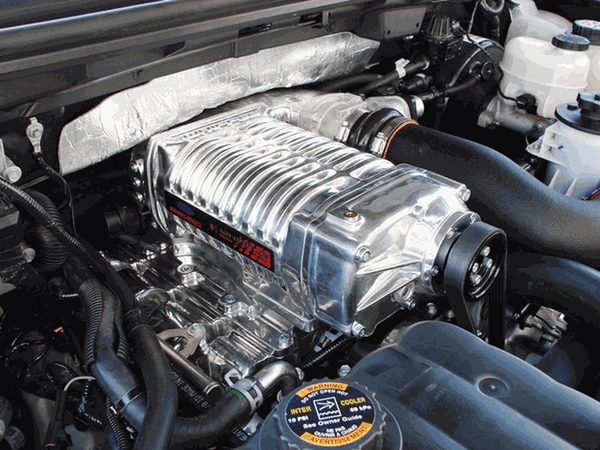 WHIPPLE: 2.3L Intercooled Supercharger Competition Kit [ 2004-2008 Ford 5.4 3V F150 ]

NOTE: ALSO AVAILABLE IN POLISHED FINISH. PLEASE SELECT ABOVE.
Whipple Superchargers have paved the way for forced induction applications over the years and truly set the industry standard when it comes to power, reliability and overall customer satisfaction. Whether your looking for a daily driver that needs a little more punch, towing heavy loads or craving a tire-frying, rubber shredding street machine, the Whipple Supercharger SC package delivers like no other SC system today. Power from tip in to redline, the new Whipple SC system makes over 50% power across the entire rpm range while maintaining industry leading drive-ability.

The system boast a massive aluminum bar and plate air-to-water intercooler that mounts inside the cast aluminum long runner Whipple intake manifold that's topped off with the W140ax Whipple Charger, the same technology that's used on the Ford GT supercar. With 8psi of boost being forced through the intercooler, the stock engine produces nearly 475HP to the flywheel and 394 RWHP!
- Whipple W140ax Supercharger 2.3L
NOTE: Tuner kits do NOT include tuning or fuel components
EXCLUSIVE FEATURES:
• Air-to-water intercooler for more power and reliability
• Instant boost, zero lag time for incredible throttle response
• Revolutionary W140ax 2.3L Whipple twin screw supercharger
• Massive aluminum intercooler, heat exchanger, and reservoir system
• Self contained oil system, no tapping oil pan
Proposition 65

WARNING: Cancer and Reproductive Harm