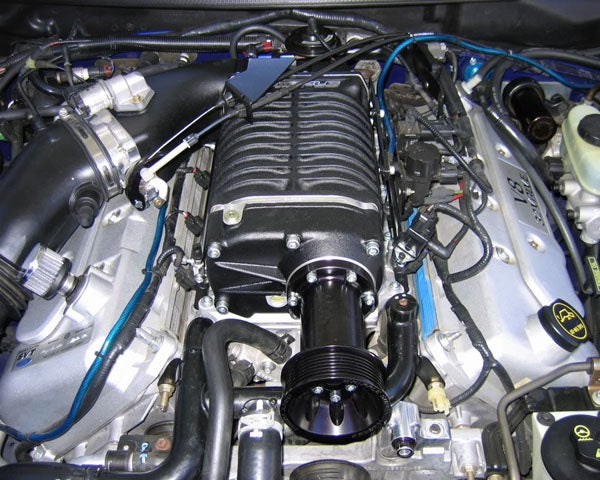 WHIPPLE: 2.3L Supercharger Upgrade for Oval Throttle Body [ 2003-2004 Ford Mustang Cobra 4.6L V8 ]

NOTE: ALSO AVAILABLE IN POLISHED FINISHES. PLEASE SELECT ABOVE.
If you're craving more power from your Cobra Terminator, Whipple has the answer. Get the industries most efficient and latest designed twin-screw supercharger available today. The new Whipple-Ford Racing system can produce incredible power levels with stock 4.6L Cobra engines as well as highly modified engines. The revolutionary new W140ax compressor has the ability to run nearly 25lbs of boost (engine modifications required) for unheralded performance.

This direct bolt-on replacement system dramatically lowers supercharger air temperatures and power consumption (hp) versus the factory Eaton roots-type supercharger. The complete bolt-on system comes with all the necessary parts for 13lbs of boost which requires zero modifications to the engine or PCM. The Whipple-Ford Racing system is available in two styles, one for the factory throttle body and one for aftermarket throttle bodies such as Billet Flow's and Accufabs.


- Whipple W140AX Supercharger 2.3L
- Over 80 HP gain at 13psi


EXCLUSIVE FEATURES:
• Direct bolt on replacement
• CAD designed air inlet and SC discharge for maximum air flow
• More power, cooler charge temp, less power consumption/parasitic loss than stock Eaton
• Up to 95% efficiency
• No "boost drop off"
• No "boost lag" as with centrifugals and turbos
• Boost range 8-25 psi
• No need for a separate oil reservoir system or "catch can"
• Billet oversized bypass valve for decreased operating temps and decreased parasitic loss
• Internally lubricated. No tapping holes pan required


NOTES: Stock fuel system and factory PCM is ok for 13psi on stock engines. Engines with boost levels above 13psi will require custom PCM calibrations. Kits do not include tuning, fuel system, TB, or cold air unless noted.
Proposition 65

WARNING: Cancer and Reproductive Harm