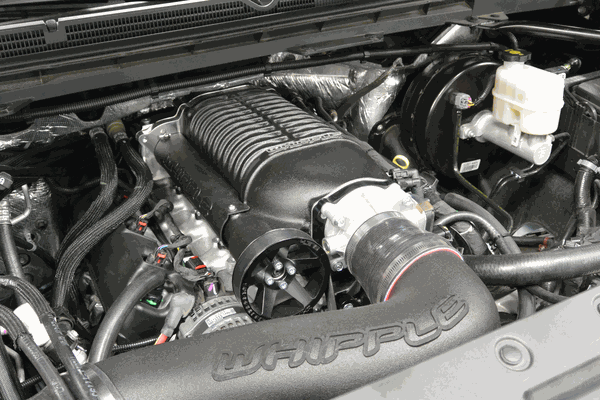 WHIPPLE: 2.9L Intercooled Supercharger Competition Kit [ 2014 - up GM Full Size Truck & SUV 6.2L V8 ]

Since 1987, Whipple Superchargers have been the pioneers and leaders of twin-screw supercharging. Whipple was the first to bring positive displacement technology to fuel injected, emissions legal GM applications. With over 26 years of GM twin-screw supercharging experience, Whipple's team have now engineered the most powerful intercooled twin-screw SC system available today for your GM LT1 direct injected engines. With all the latest technology, the all new Whipple system makes more power than any other positive displacement supercharger system on the market giving you tire frying, neck whipping power that will give you a grin from ear to ear. The new Whipple system is 100% complete and is designed for stock engines but has enough capability to work with heavily modified engines.


The all-new system features Whipple's massive oversized air-to-water intercooler for unmatched cooling capacity, W175FFax Whipple twin-screw supercharger that reaches 99% volumetric efficiency and industry leading power potential. The unique intercooled bypass system offers better acceleration and less than 1hp of consumption during cruising for excellent fuel economy. The system also includes a massive (over 3 times larger than competition) intercooler water reservoir that has over 4 gallons of capacity, aluminum high flow intake manifold. While others claim, Whipple Superchargers simply deliver more power per pound of boost than any other supercharger on the market today.

Tuner Competition Kits do not come with the flash tool, calibration, or emission exemption.

NOTE: AVAILABLE IN POLISHED FINISHES. PLEASE SELECT ABOVE.
EXCLUSIVE FEATURES:
• Front feed supercharger utilizes precision ground helical cut gears vs a problematic belt
• Integrated casting to minimized bolt on pieces, adapters, leaks, and flow restrictions
• Integrated Crusher venturin shaped inlet for maximum airflow capacity and minimal rotor cavitation. 112mm round inlet outflows and allows for optional 102mm throttle bodies.
• Big Mouth Whipple Crusher plastic air inlet for increased velocity and lower inlet temps.
• Integrated design allows for oversized intercooler core, giving lower air charge temps to allow more boost and timing to be run on pump gas.
• Massive air-to-water aluminum bar plate intercooler reservoir (over 2.5 gallons) holds more than triple other systems allowing longer, more consistent power.
• Self contained oversized oil system for dramatically reduced oil temps in even the most demanding conditions.
• Zero turn inlet allows for decreased induction losses when compared to rear inlet systems.
• Center discharge port for better cylinder to cylinder distribution than other twin-screws.
• Discharge down design allows for less pressure loss, giving more power at lower boost levels.
• Top mount design allows for cooler operation than upside down SC's that conduct heat from the engine.