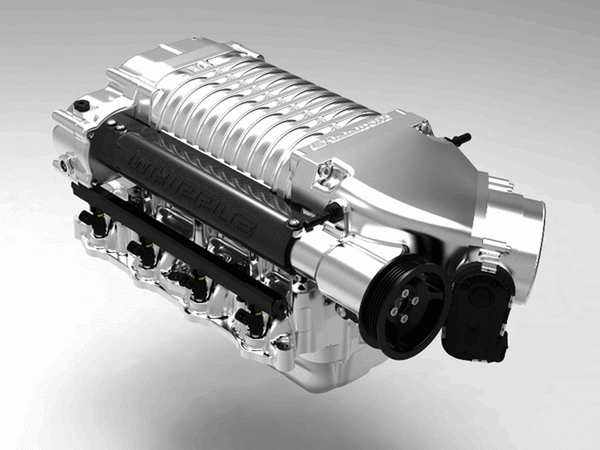 WHIPPLE: 2.9L Intercooled Supercharger Kit [ 2011-2014 Ford F150 5.0L ]

NOTE: ALSO AVAILABLE IN POLISHED FINISHES. PLEASE SELECT ABOVE.
Now standard with the most powerful supercharger, the all new Gen 4 2.9L Supercharger! Since 1987, Whipple Superchargers have been the pioneers and leaders of twin-screw supercharging. With over 26 years of twin-screw supercharging experience, Whipple's team have now engineered the most powerful intercooled twin-screw SC system available today for your Ford F150. With all the latest technology, the all new Whipple system makes more power than any other positive displacement supercharger system on the market giving you tire frying, neck whipping power that will give you a grin from ear to ear. The new Whipple system is 100% complete and is designed for stock engines but has enough capability to work with heavily modified engines.

 The all-new system features Whipple's massive oversized air-to-water intercooler for unmatched cooling capacity, a unique front feed W175ax (a whopping 2.9 liters) integrated Whipple twin-screw supercharger that reaches 99% volumetric efficiency and industry leading power potential. The unique intercooled bypass system offers better acceleration and less than 1hp of consumption during cruising for excellent fuel economy. The system also includes high-flow fuel injectors, aluminum high flow intake manifold and a SCT X4 for the factory ECU recalibration. While others claim, Whipple Superchargers simply deliver more power per pound of boost than any other supercharger on the market today.
EXCLUSIVE FEATURES
• Front entry W175FF 2.9L Whipple twin screw supercharger that significantly outperforms competition
• Front feed supercharger utilizes precision ground helical cut gears vs a problematic belt
• Oversized Crusher inlet for maximum airflow capacity and minimal rotor cavitation.
• Front feed allows for oversized intercooler core compared to other smaller intercooler cores, giving Whipple lower air charge temps which allow more boost and timing to be run on pump gas.
• Massive air-to-water aluminum bar plate intercooler offers more cooling than any other positive displacement system available.
• Massive aluminum intercooler reservoir holds more than double the IC water than any others. More water = more power!
• Whipple Superchargers massive oversized intercooled air-bypass system for industry leading reduction of burst knock and incredible fuel economy.
• Self contained oversized oil system for dramatically reduced oil temps in even the most demanding conditions
• Center discharge port for better cylinder to cylinder distribution than other twin screws
• One turn inlet allows for decreased induction losses when compared to rear inlet systems
• Discharge down design allows for less pressure loss which gives more power at lower boost levels
The revolutionary front feed 2.9 liter (175 cubic inch) twin screw SC sets a new standard to supercharging. While others cobble up one adapter after another, Whipple spent over two years developing every single component of this ground breaking supercharger system. The results speak for themselves, not only does it make the most horsepower of any supercharger system on the market, its fully upgradeable with camshafts, head work, throttle bodies and bigger air systems so you have the ability to go from mild to wild whenever you want.
Not all front inlet systems are created equal. As in typical Whipple fashion, the Whipple front inlet system is not restricted by an 81mm inlet system which severely limits your potential power gains. The Whipple SC system uses a unique 109mm round (round flows significantly more than oval or rectangle) inlet for nearly 1600cfm capacity (1000hp). The front inlet casting also features a long tapered turn allowing proper rotor filling, maintaining peak volumetric efficiency levels.
Proposition 65

WARNING: Cancer and Reproductive Harm