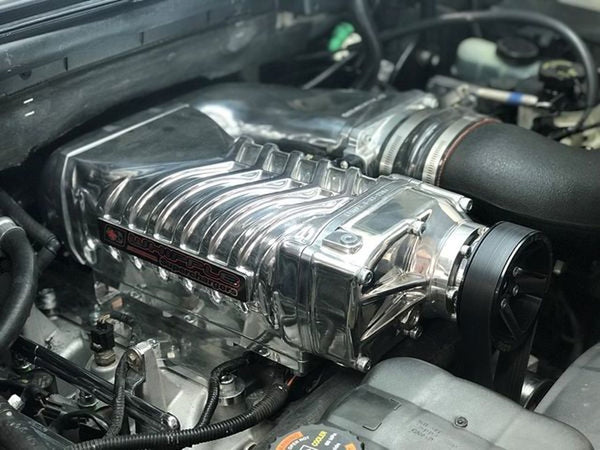 WHIPPLE: 2.9L Supercharger "Racer" Kit [ 2001-2004 Ford Lightning ]

NOTE: ALSO AVAILABLE IN POLISHED FINISH. PLEASE SELECT ABOVE.
**EGR & Air Box Assembly Not Included**
If you're craving more power from your Lightning or Harley truck, Whipple has the answer. Get the industries most efficient and latest designed twin-screw supercharger. The new Whipple system can produce incredible power levels with stock 5.4L Lightning engines as well as highly modified engines. The revolutionary new W175ax Gen 3 compressor has the ability to run nearly 30lbs of boost (engine modifications required) for unheralded performance.
This direct bolt-on replacement system dramatically lowers supercharger air temperatures and power consumption (hp) versus the factory Eaton roots-type supercharger. The Whipple system accommodates both factory and aftermarket throttle bodies and there's no need to clearance the firewall or hood in anyway. Using a clean sheet design, Whipple used the rear axial entry design vs the factory axial/radial version that sacrificed drastic performance. The Whipple axial entry reaches nearly 99% VE during its operation, significantly outperforming the stock supercharger.
Proposition 65

WARNING: Cancer and Reproductive Harm