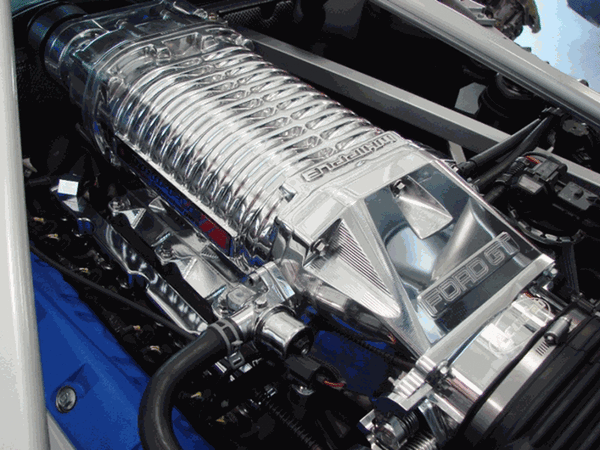 WHIPPLE: 2005-2006 Ford GT Supercar (4.0L) Supercharger Upgrade Kit

If you're craving more power from your GT Supercar, Whipple has the answer. Get the industries largest, most efficient and latest designed twin-screw supercharger available today. Whipple first brought you the 3.4 Liter W210ax, setting a trend for the ever increasing thirst for more power. After the massive success of the 3.4L and 4.0L, Whipple now offers the W275ax HPR (High Pressure Ratio) which is a whopping 4.5 Liter supercharger! Twice the size of the stock SC and optimized for the higher boost levels the Ford GT motor craves.
The new Whipple system can produce incredible power levels with stock 5.4L GT engines as well as highly modified engines. The revolutionary W275ax HPR compressor has the ability to run nearly 30lbs of boost (engine modifications required) for unheralded performance. This direct bolt-on replacement system gives you the ability to run far higher boost levels than the factory 2.3 liter screw-type supercharger while lowering supercharger air temperatures and power consumption (hp). This bolt-on system comes as a "tuner" system which gives tuners the ability to run various boost levels and tunes. The system includes the all new, kit specific 3250cfm Elliptical Throttle Body. 
Want to run a different boost level? In a matter of minutes, just loosen the 4 bolts, release tension from belt and the SC pulley can be replaced. No need to remove the supercharger for every pulley change as you must with the factory SC. Each kit includes SC pulley of your choice, an adjustable idler pulley for extra belt wrap on the supercharger pulley and extra belt adjustment as well as all the necessary hardware for a very easy bolt-on installation. Whipple also offers a custom-tuned SCT flash tool and Diablo MAFia for direct bolt-on performance. 
The Whipple GT kit not only offers a better supercharger, but the potential to have one of the fastest, most powerful street machines on the road today. Each system comes with a high shine polished finish.
NOTE: Upgrade kits do NOT include tuning, fuel system, TB, or cold air unless otherwise noted
Proposition 65

WARNING: Cancer and Reproductive Harm