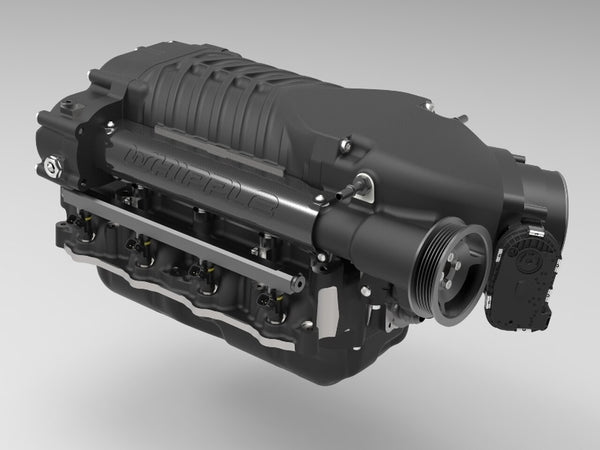 WHIPPLE: [ 2015-2017 Mustang GT ] STAGE 1 (2.9L) Intercooled Supercharger Kit

NOTE: ALSO AVAILABLE IN POLISHED FINISHES. PLEASE SELECT ABOVE.
Now standard with the most powerful supercharger, the all new Gen 4 2.9L Supercharger! Whipple Supercharger Kit using the new Gen 3 2.9L compressor is the most advanced, most powerful, most upgrade-able and highest quality system available for the 2015-2017 S550 Mustang. Using a unique intercooled setup allows for 10-11psi of boost. Nearly a 90% power gain with bolting on the Whipple SC and its unique Roval 132mm billet throttle body. Whipple Superchargers has yet again set a new precedence for bolt-on power and industry leading durability. The industry leading Whipple S550 system makes up to 825 (+390hp) engine horsepower and 640 (+240ft/lb) foot pound of torque on 93 octane fuel. One of the best supercharger kits on the market today for the S550 Mustang GT.

Whipple Stage 1 Features:
- Stage 1 Produces up to 825HP/640TQ
- Flat Torque Curve For Incredible Acceleration
- Fits Under Factory Hood No Modifications
- 10-11psi Boost
- Runs on 93 Octane
- Includes PCM Tune
WHIPPLE SUPERCHARGERS S550 EXCLUSIVE FEATURES
- Most powerful 50-state legal system available (base system makes 750 engine HP on 93 octane while the upgrade throttle body system makes 825 engine HP on 93 octane)
- No other upgrades required, just massive power right out of the box (nearly double the stock horsepower)
- Front entry W175ax Gen 3 (2.9 liters) Whipple twin-screw supercharger that significantly outperforms competitions 1.9L and 2.3L roots-type systems (front entry design can be up to 8% more efficient then a side/rear entry)
2.9L is 26% larger than 2.3L roots-type allowing lower power consumption and lower discharge temps to flow the same amount of air (more power to the rear wheels)
- Front feed supercharger utilizes precision ground helical cut gears vs a problematic belt
- Over-sized Crusher inlet for maximum airflow capacity and minimal rotor cavitation (unique Roval 132mm inlet)
- Front feed allows for over-sized intercooler core compared to other smaller intercooler cores giving Whipple lower air charge temps which allows more boost and timing to be run on pump gas
- Massive air-to-water aluminum bar-plate intercooler (over 33% larger than competition) offers more cooling than any other positive displacement system available, nothing comes close
- Massive oversized aluminum intercooler reservoir (over 2 gallons) holds more than double any competitors IC water system allowing longer more consistent power levels vs. competition
- High flow intercooler pump, nearly double the flow of the standard units others use.
Proposition 65

WARNING: Cancer and Reproductive Harm