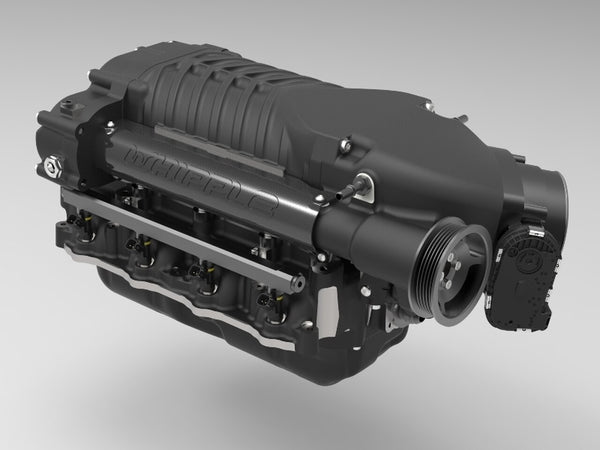 WHIPPLE: [ 2015-2017 Mustang GT ] STAGE 2 (2.9L) Intercooled Supercharger Kit

NOTE: ALSO AVAILABLE IN POLISHED FINISHES. PLEASE SELECT ABOVE.
If you want the most advanced, most powerful, most upgradeable, 50-state emissions legal and highest quality system available, then here it is! Whipple Superchargers has yet again set a new precedence for bolt-on power and industry leading durability. Featuring the new, 4th generation Whipple 2.9L supercharger with an all new rotor profile and new high flow rotor housing to unleash even more power than ever before. The Stage 2 Whipple System includes the billet Roval 132mm electronic throttle body, high flow fuel injectors for massive flow capacity and new high flow intercooler pump. The industry leading Whipple S550 system makes up to 825 (+390hp) engine horsepower and 640 (+240ft/lb) foot pound of torque on 93 octane fuel! Nearly a 90% power gain with bolting the Whipple SC with its unique Roval 132mm billet throttle body and high flow injectors! 
Nobody puts more time and resources into the development than Whipple. The proof is in the product, more power per lb of boost than any other system. The key to making such incredible reliable power is in the Whipple unique twin screw supercharger, massive air-to-water intercooler, oversized Crusher air system and innovative PCM programming that keeps the power-train safe and secure. Whether you're looking for a daily driver that needs a little more punch or you're craving a tire-frying, rubber shredding street machine, the Whipple Supercharger systems delivers like no other SC system today. Power from tip in to redline, the new Whipple SC system makes incredible power across the entire rpm range while maintaining industry leading drive-ability.
With years of OEM and racing experience, Whipple engineers have developed a unique PCM calibration that reconfigures all the necessary engine functions including fuel, spark, knock detection, torque management, transmission control and electronic throttle control. The vehicles PCM constantly monitors the engines torque output while monitoring many different parameters to keep the engine in its ideal parameters. If a parameter falls below specification, the PCM will lower boost and torque output until the problem can be cured. No other calibration in the field has such technology, giving the Whipple SC system unheralded performance and reliability. Each Whipple kit comes with unique software and a OBDII flash tool giving the customer the ability to flash/update whenever needed. Each customer also gets the ability to adjust wheel/axle size, octane adjustment, crank/cam relearn and many other unique features.
Whipple Stage 2 Features
- Stage 1 Kit + 72lb Injectors & 132mm Throttle Body
- Power Output is 825HP/640TQ
- Runs on 93 Octane
WHIPPLE SUPERCHARGERS S550 EXCLUSIVE FEATURES
- Most powerful 50-state legal system available while Stage 2 Kit with the upgrade throttle body system makes 825 engine HP on 93 octane
- No other upgrades required, just massive power right out of the box (nearly double the stock horsepower)
- Front entry W175ff Gen 4 (2.9 liters) Whipple twin-screw supercharger that significantly outperforms competitions 1.9L and 2.3L roots-type systems.
- The 2.9L is 26% larger than 2.3L roots-type allowing lower power consumption and lower discharge temps to flow the same amount of air
- Front feed supercharger utilizes precision ground helical cut gears vs a problematic belt
- Over-sized Crusher inlet for maximum airflow capacity and minimal rotor cavitation (unique Roval 132mm inlet)
- Over-sized intercooler core compared to other smaller intercooler cores giving Whipple lower air charge temps which allows more boost and timing to be run on pump gas
- Massive air-to-water aluminum bar-plate intercooler (over 33% larger than competition) offers more cooling than any other positive displacement system available, nothing comes close
- Massive oversized aluminum intercooler reservoir (over 2 gallons) holds more than double any competitors IC water system allowing longer more consistent power levels vs. competition
- High flow intercooler pump, nearly double the flow of the standard units others use
Proposition 65

WARNING: Cancer and Reproductive Harm