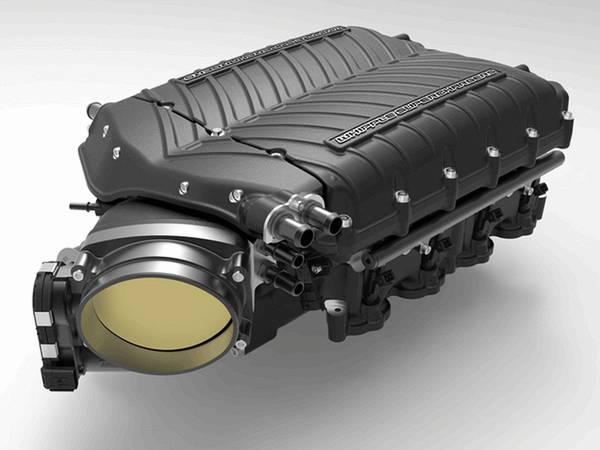 WHIPPLE: [ 2018+ Mustang GT ] STAGE 1 (3.0L) Intercooled Supercharger Competition Kit

NOTE: ALSO AVAILABLE IN POLISHED FINISHES. PLEASE SELECT ABOVE.
Whipple Stage 1 kit for the 2018+ Mustang features the NEW Gen 5 supercharger for maximum efficiency, power and torque. Already established as a proven performer, the Gen 5 takes yours S550 Mustang to the next level with instant boost at any throttle position. This all new system is specific to the 2018+ Mustang and is a perfect match to the direct injected 5.0L Coyote engine. The Whipple Stage 1 also features an even larger intercooler than the already massive Whipple Cooler that cooled the Ford Cobra Jets and all the record setting S550 Mustangs. Couple this with the industry's leading heat exchanger, water reservoir and intercooler pump, you get more power with lower boost levels and quicker recovery times after aggressive operation.

The Stage 1 competition supercharger system is designed for the racer looking to make in the 600-800 flywheel HP range with the stock 80mm throttle body.

Whats Included?
• Tuning and Fuel Upgrades are NOT INCLUDED
• Uses Stock 80mm Throttle Body
• Includes 4in Pulley
• 6 Rib Belt System
• All Necessary Parts and Hardware for Installation

Gen 5 Benefits
The new, direct and port injected supercharger system features the brand new Generation 5 3.0L front feed twin-screw supercharger. Not to be confused with the Gen 3 or 4, this all new supercharger features industry leading efficiency from idle to redline. All new bearings, gears, rotors and housing allow the new supercharger to spin faster, longer and safer while producing more power than any other positive displacement supercharger ever built.

Installation Features
• Fits under factory hood with no modifications
• No cutting or grinding on the engine block
• No cutting or grinding the K-brace
• No internal modifications required
• Kits come complete with all necessary parts and hardware for installation
• Plug and play wiring with male and female connections
• OEM quick connect fittings for easy installation

Tuning
This Tuner Kit allows the customer to use their own custom tuning for maximum performance.

Boost, Belts, Pulley Info
Each complete Whipple Mustang supercharger system comes with the IAT2 harness and sensor to properly monitor the delta between the incoming air and the compressed air after the intercoolers, this helps maximize power in all given environments. The 6-rib billet idler system features a billet spring loaded tensioner, billet idler pulleys and lightweight pocketed supercharger pulley. The 6-rib can easily be upgraded to a 10-rib with the optional 10-rib system. Each system comes with an adjustable idler pulley to allow variance in SC pulleys with minimal belt length changes. The massive 150mm Roval inlet allows for nearly any throttle body to be run, 80mm stock, 132mm or 150mm throttle bodies.
Fuel System
Customer provides fuel system upgrades for maximum power.
Proposition 65

WARNING: Cancer and Reproductive Harm