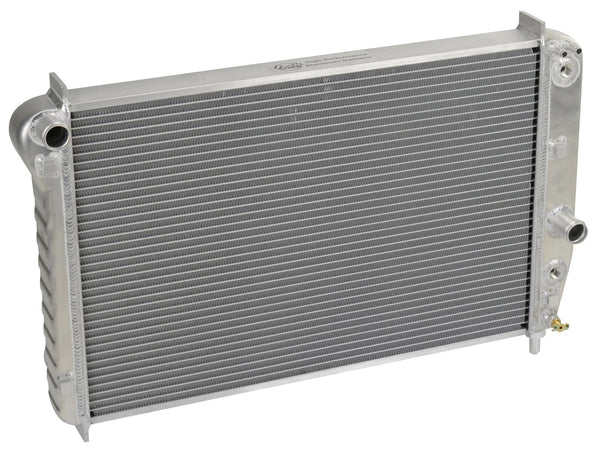 DeWitts: 2005-13 Corvette, Cut Down Core 2 row 1" tube with trans & oil cooler

C6 CORVETTE (SHORT)
All the models below have a shorter core for blower clearance.   
DIRECT FIT® C6 RADIATOR FEATURES:
Two row core (1.0" wide tubes)
Direct Fit Upgrade-No modifications
No gaskets or plastic tanks
Billet aluminum end tanks with no fabrication seams
7-plate (TOC & EOC) coolers where applicable
Factory Quick connect transmission fittings included
100% assembled, brazed, and welded in USA
Proven design over 10 years running

Lifetime Warranty

              
APPLICATIONS
     
1139125M  This model has no internal coolers and fits:
Base models with manual transmission. Non-Z51 option
1139125A- This model includes one 7-plate internal oil (TOC) cooler on the passenger side. GM quick connect fittings included. Applications are:
All Z06 (Except 2012 w Z07) 

All C6 with Automatic transmission  

All dry sump engines
1139125B- This model includes a 7-plate internal oil cooler for both engine oil cooling (EOC) and transmission (TOC) cooling. Fits the following:
2005-2006 Z51 

2007-2009 wet sump motors 
1139105E-This a non-factory option. It was created  for those wanting to add internal type engine oil cooling. The oil ports are 3/4-16 SAE straight thread o'ring seal. You can use the factory GM oil line assembly (quick connection fittings required) or install the #10AN fittings and use SS hose assemblies. 
1139125Z- 2013 Corvette cut down version for models: Z06,, Z51, Grand Sports with engine-mounted oil cooler
RADIATOR & FAN COMBINATIONS
The best of both worlds! Here we combine the DeWitts Direct Fit radiator with Spals dual 11" (2800 CFM) electric fans. Click HEREfor fan kit only. 
Model: 4139125M              
Model: 4139125A              (Photo) 
Model: 4139125B               
Model: 4139125E
Model: 4139125Z               
California Proposition 65 Statement